Welcome to The American Legion, Department of France
Also Visit The Department of France Facebook page
Celebrating over 90 Years of Service -
The American Legion Since 1919
Short History
---
Department of France Centennial Challenge Coin
March 2019 is firmly circled on The American Legion Department of France calendar. That's when Legionnaires across Europe will celebrate the organization's 100th birthday in Paris, where a gathering of soldiers, sailors and Marines that month in 1919 gave birth to what would become the largest organization of U.S. veterans.
To honor the centennial, and to help cover anticipated costs of celebrating the anniversary, the Department of France has struck a commemorative challenge coin that has been a hot seller since it was introduced last summer.
American Legion National Executive Committee member Nola Maloney, an Air Force veteran, proposed the idea of a centennial challenge coin soon after she was elected to the NEC at the department convention in 2016. "I said I'd like for us to have a special coin because we are the birthplace of The American Legion," she explained. "This is where our veteran brothers first started our organization. I also knew that our department would need some kind of subsidy because of the centennial."
The coins have been purchased by members, collectors and post leaders to distribute among military personnel, supporters and others who help the department fulfill the Legion mission in communities overseas, including many U.S. military installations.
"It's a classic challenge coin, and a good one," said Maloney, who is delighted by sales so far. "We're not even through our first year, and we've already sold a third of our coins."
The challenge coin features the Eiffel Tower - the image of which is embroidered on Department of France Legion caps - above the organization's national 100th anniversary logo. On the flip side appear the emblems of all four American Legion Family groups - the American Legion Auxiliary, Sons of The American Legion, Legion Riders and The American Legion.
The challenge coins are $10 each, plus shipping, and may be ordered by emailing Maloney at necmaloney@gmail.com or by sending a check payable to The American Legion Department of France to her U.S. address at:
Nola Maloney, NEC
10095 N. Mill Crossing Way
Tucson, AZ 85743
Add $2 per coin for standard shipping and $13 per coin for priority shipping.
---
The American Legion
The American Legion is a wartime veteran's organization formed in Paris on March 16, 1919, by members of the American Expeditionary Forces. The veterans' organization is headquartered in Indianapolis Indiana, and also has offices in Washington, D.C... The American Legion was chartered and incorporated by Congress in 1919 as a patriotic veterans organization devoted to mutual helpfulness. It is the nation's largest wartime veterans service organization, membership stands at over 2.4 million in 14,000 posts worldwide. The posts are organized into 55 departments: one each for the 50 states, along with the District of Columbia, Puerto Rico, France, Mexico and the Philippines. It's primary goal and commitment is mentoring youth and sponsorship of wholesome programs in our communities, advocating patriotism and honor, promoting strong national security, and continued devotion to our fellow servicemembers and veterans.
Hundreds of local American Legion programs and activities strengthen the nation, one community at a time. American Legion Baseball is one of the nation's most successful amateur athletic programs, educating young people about the importance of sportsmanship, citizenship and fitness. The Operation Comfort Warriors program supports recovering wounded warriors and their families, providing them with "comfort items" and the kind of support that makes a hospital feel a little bit more like home. The Legion also raises millions of dollars in donations at the local, state and national levels to help veterans and their families during times of need and to provide college scholarship opportunities.
The American Legion is a nonpartisan, not-for-profit organization with great political influence perpetuated by its grass-roots involvement in the legislation process from local districts to Capitol Hill. Legionnaires' sense of obligation to community, state and nation drives an honest advocacy for veterans in Washington. The Legion stands behind the issues most important to the nation's veterans community, backed by resolutions passed by volunteer leadership.
The American Legion's success depends entirely on active membership, participation and volunteerism. The organization belongs to the people it serves and the communities in which it thrives.
Visit the National website for daily Veteran News Updates and The American Legion on Facebook page. Register on the sites to actively participate discussing and debating Legion Issues.
The Department of France
The American Legion Department of France was chartered in 1920, and except for six years during World War II has been in continues operation. The American Legion, Department of France is devoted to mutual helpfulnesss of veterans (both single and married) and their families, with 30 Posts throughout Belgium, Denmark, England, France, Germany, Greece, Ireland, Italy, Netherlands, Portugal, Spain, and Thailand.
Please visit the Department of France Facebook page for more Department information.
If you know a veteran or veteran's family member who needs help, please have that person contact one of the following:
STILL SERVING AMERICA'S VETERAN'S...AROUND THE WORLD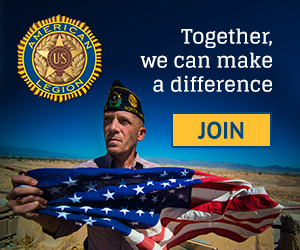 Site Administrator: Carl Hale, FR01